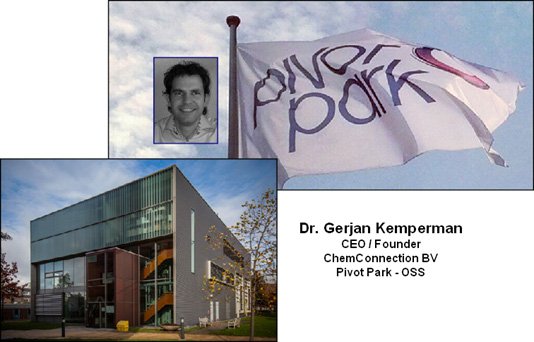 Samenvatting
ChemConnection is a contract research and manufacturing organization (CRO/CMO) offering services in chemical process R&D, and cGMP manufacture of API and nanomedicines. ChemConnection has taken over the highly experienced staff and state of the art API facility from Merck/MSD and can offer today Big Pharma quality and performance at a competitive price. ChemConnection is located at Pivot Park in The Netherlands.
ChemConnection has expertise in high-potent compounds, carbohydrates, steroids, and peptides. ChemConnection is also an experienced partner for nanomedicine development. We have a proven track record in process design, process development, scale up, and GMP manufacture of nanomedicines. Our expertise includes metal nanoparticles, polymeric nanoparticles, liposomes, and polymersomes, as well as conjugates thereof.
ChemConnection has ample experience in bringing new chemistries from discovery to clinic and to registration. Thanks to our team's legacy experience from Organon Biosciences, Schering-Plough, and Merck/MSD, we are intimately familiar with all technical, regulatory, and GMP requirements for this.
ChemConnection combines a vast experience in drug development, GMP manufacture, and quality management with the flexibility, creativity and open mindset of a small CRO/CMO.
Curriculum vitae dr. Gerjan Kemperman
1996 – 2000:
University of Nijmegen. PhD Organic Chemistry, promotor: prof.dr. B. Zwanenburg
Research topic: The PhD project was financed by DSM anti-infectives and the Dutch Ministry of Economical affairs and was aimed at development of novel processes for the manufacture of semi-synthetic cephalosporin antibiotics. Experience was gained in organic synthesis, polymorpism and crystallization, and chemometrics. Thesis: Clathrate type complexation of cephalosporin antibiotics – function, design, and application
1996:
University of Bologna, Faculty of Industrial Chemistry, internship. Thesis: Synthesis and reactions of 2,3-epoxysulfenes
1994 – 1996:
University of Nijmegen, MSc chemistry, cum laude. Specialization: Organic chemistry. Thesis: Attempted synthesis of alectrol, a growth stimulant for parasitic weeds
1990 – 1994:
Hoger laboratorium Onderwijs (Hogeschool Gelderland), BSc in chemistry
Specialisation: Organic Chemistry. Thesis: Ortho-acetoxylering en benzoxylering van anilines via N-oxides
Employment:
2012 - present:
ChemConnection BV, Pivot Park, Oss, The Netherlands
CEO and founder
Responsible for business development
Responsible for developing ChemConnection and for the overall performance of ChemConnection.
2011 – 2011:
Department Head Process Chemistry Merck Sharp & Dohme, Oss
Heading the Department of Process Chemistry (~50fte), which is responsible for all chemistry related activities within pharmaceutical development, such as process R&D, manufacture of API for pre- and early clinical development in the c-GMP Kilolab, transfer to late stage development and commercialization, outsourcing, establishing CMC files for authorities, isotopic labeling
7 direct reports mainly with a PhD education
Accountable for the performance of the department against KPI's
Budget responsibility for the department
Responsible for recruiting, training, coaching, and developing people.
De avond wordt besloten met een drankje. Introducé(e)s zijn van harte welkom.