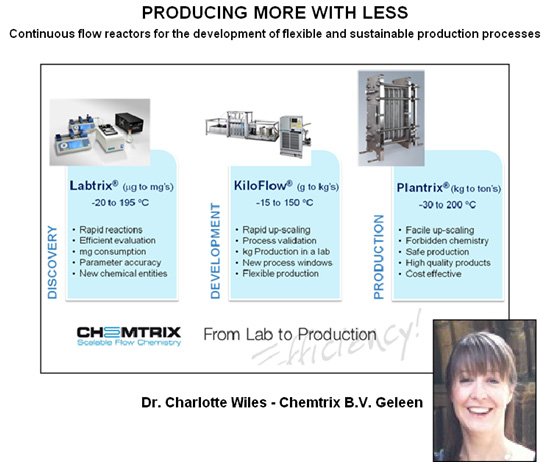 Samenvatting
Compared conventional to stirred vessels, flow reactors have significant processing advantages which include improved thermal management, enhanced mixing control and access to larger operating windows enabling the development of safe, efficient, robust and sustainable production processes – with benefits not only harnessed for the reaction steps, but also in cost and waste reduction when considering that increased product purities require less downstream processing. Applicable at both the lab and production scale, continuous flow reactor technology therefore has the ability to benefit both early stage researchers and process development chemists/engineers in the exploitation of sustainable synthetic processes.
The presentation will demonstrate through a selection of Case Studies the advantages that can be leveraged through the use of continuous flow reactor technology including control of hazardous processes, small-footprint systems, low material consumption for process development and on-site local production – including the benefits of combining continuous production with online analysis.
Curriculum vitae dr. Charlotte Wiles
Starting her research in the area of continuous flow synthesis in 2000, Charlotte obtained her PhD in 2003 entitled 'Microreactors in organic synthesis'. This was followed by 5 years of Post Doctoral research into the rapidly developing field of continuous flow synthesis, specifically in the area of heterogeneous catalysis for small molecule synthesis.
In 2008, Charlotte joined Chemtrix BV as a Senior Chemist where she worked on the commercialisation of lab-scale micro reactor apparatus. In 2010 she was promoted to Chief Technology Officer within Chemtrix BV and in 2013 to CEO, where she continues to research and develop continuous flow systems and solutions for industrial partners; with more recent developments focusing on industrial flow reactors, suited towards the development of flexible tonne-scale production plants, in cooperation with ESK Ceramics (3M) and DSM.
Over the course of her research career, Charlotte has published more than 60 peer-reviewed articles, several book chapters and in 2011 published a book 'Micro reaction technology in organic synthesis'.
De avond wordt besloten met een drankje. Introducé(e)s zijn van harte welkom.