Cell Surface Glycans and Glycoconjugates: form Cancer Vaccine Development to Flu Surveillance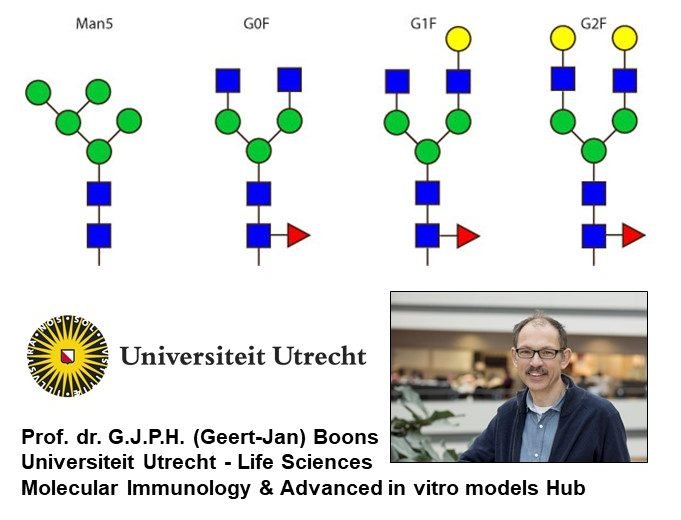 Samenvatting
There is a growing awareness that the number of genes encoded in the genomes of multicellular organisms is insufficient to accommodate the diversity of cellular interactions and protein functions required for development and viability.
Therefore, post-translational modifications, in particular glycosylation, must have even more important roles than was previously appreciated. Almost all cell surface and secreted proteins are modified by covalently-linked carbohydrate moietiesand the glycan structures on these glycoproteins are essential mediators in processes such as protein folding, cell signalling, fertilization, embryogenesis, neuronal development, hormone activity and the proliferation of cells and their organization into specific tissues.
In addition, overwhelming data supports the relevance of glycosylation in pathogen recognition, inflammation, innate immune responses and the development of autoimmune diseases and cancer. Advances in understanding the biological roles played by glycans, along with the factors that influence or alter their functions, will be central to understanding biology and will provide important avenues for the development of therapeutics, diagnostics and nutraceuticals of the future. It has, however, been difficult to explore biological properties of individual glycans because these bio-molecules are not readily available.
To address this challenge, we have developed chemo-enzymatic methodologies that make it possible to prepare large collections of highly complex glycans. The methodology has been to synthesize a series of complex oligosaccharides that occur in upper airway tissue and are involved in flu infectivity. The compounds were printed as a microarray, which was used to examine binding properties of hemagglutinins of H2N3 influenza viruses. The results of this study has provided insight how antigenic pressure shapes host glycan recognition, which in turn is providing opportunities to develop methods for flu surveillances.
We have also developed chemo-enzymatic methodologies to prepare of human milk oligosaccharides (HMOs) that were employed to identify compounds that function as decoys for viral and bacterial adhesion. Finally, we have shown that a fully synthetic compound composed of an appropriately glycosylated MUC1 peptide, a promiscuous helper T-epitope and a Toll-like receptor agonist can elicit robust humoral and cellular immune responses and was efficacious in reversing tolerance and generating a therapeutic response in a mouse model of mammary cancer.

Curriculum vitae prof.dr. Geert-jan Boons
Geert-Jan Boons (1962) studied chemistry at Leiden University and earned a PhD. on research dealing with the development of a vaccine for the meningococcus bacteria. After two years working as a postdoc in London and Cambridge, he started working at the University of Birmingham (UK), where he was appointed full professor in 1997. A year later, he exchanged this position for an appointment at the University of Georgia's Complex Carbohydrate Research Center.
After 25 successful years in England and the United States, Prof. Geert-Jan Boons has chosen Utrecht University as the place where he will realise his next ambition. He had several members of his research group moved from the University of Georgia (USA) to the David de Wied building at the Uithof. As department head and Professor of Chemical Pharmacology, he wants to take his pioneering work in the field of complex cellular carbohydrates, called glycans, to the next level. Prof. Boons wants to know what the complex structures of the glycans says about their biological functions to uncover the roles they play in disease and to open new avenues for the development of therapeutics and vaccines.
He decided to move, after 18 years, his large and successful research group at the University of Georgia to start afresh in Utrecht. "The University of Georgia doesn't have a University Medical Centre. In addition, Utrecht University has a Department of Pharmaceutical Sciences and a Faculty of Veterinary Medicine. The research group led by Frank van Kuppeveld, for example, has a lot of expertise in pathogens such as the flu virus that use glycans to penetrate cells. I love the opportunity to work with them to understand viral cell entry and help develop the next generation of diagnostic and therapeutic."
For his education, professional experience and honors and awards see:
https://www.uu.nl/staff/GJPHBoons.
Introducé(e)s zijn van harte welkom.
Graag vooraf bericht als u verwacht te komen.
Stuur daartoe een mail naar tcj.gribnau@planet.nl.
Meer informatie over deze en andere lezingen is te vinden op www.beceka.info.